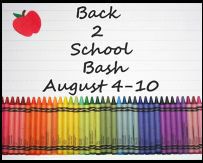 While summer just officially started, it's not too early to think about Back to School. To help you get prepared for the new school year,
Andersons Angels
,
MomVantage
,
Mommy of One and Counting
and
Joy of Momma Joyner
are putting together a blog hop named Back 2 School Bash, which is scheduled to run between 8/4-8/10.
Signup is 100% free if you follow the rules outlined below:
Host a school related giveaway with a prize package valued at $25 or above. You're responsible to find a sponsor or provide the prize yourself.
Display the event button in your sidebar from now until the event ends
Write a post about this event
You can also opt in for the Grand Prize Cash Giveaway at $5 for 2 links. The cash value of the Grand Prize will be determined when the number of participants is known. So the more, the merrier.
The event is only open to the first 50 bloggers. You need to act fast and fill out the
signup form
before all free spots are filled. You may email any of the hosts (e.g. Trista at andersonsangels2010@gmail.com) if you have questions.
Feel free to drop me a line if you'd like to be a sponsor for my giveaway!