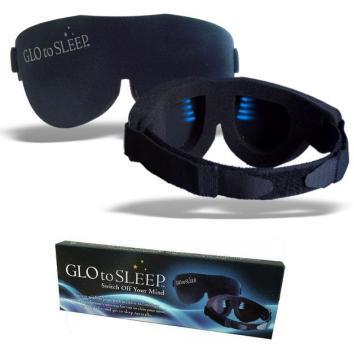 ~~The giveaway is now CLOSED~~
Have you ever got those moments when you felt very tired but couldn't fall asleep? Are you concerned about the side effects of sleeping pills?
GLOtoSLEEP™
, Hollywood's favorite sleep mask, will take care of all your sleep problems in an innovative and natural way! No electronics! No drugs! Just a good night's sleep! I'm so excited that I'm given the opportunity to try it myself and that three of you will get to experience this celebrity treatment soon! Special thanks to
Stylit.TV
for introducing me to this great company!
The
GLOtoSLEEP™
mask is soft, lightweight (less than 1 ounce), and comfortable to wear. It uses the body's own system to adjust the wearer's brain waves and allows sleep to occur naturally. It's very simple to use:
Place the underside within 4-6 inches of a regular light bulb for a few minutes (e.g. rest it underside-down on top of a lampshade);

When the bars turn blue (in the dark), the mask is fully charged and ready to use;

Adjust the Velcro strap for the best fit to your head so that it won't shift if you choose to wear it all night;

Put on the mask and let your eyes wander up and down the photoluminescent bars while blinking and breathing normally. Close your eyes when you feel like it.
The blue bars will fade to bluish-gray and stay that way for up to 8 hours.

The wearer will fall asleep naturally because the blue strips help to clear the mind and the use of the Eastern technique of "looking up" helps to relax the mind by converting the brain's active Beta waves to calming Alpha waves, which are conducive to sleep.
GLOtoSLEEP™
is a really, really cool product! Having tried it for a week (I didn't wear it through the night), I truly love the way it helps me relax and become drowsy. I felt better-rested when I woke up. I plan to gift it to my mom, who has pretty severe sleep problems for years. The user guide suggests that it may take longer to take effect for long-term sleep problems. I believe it will work well given my own experience and the
testimonials
from many others, including TV and film actor Ernie Hudson.
The
GLOtoSLEEP™
mask is made in the U.S. in a medical-grade facility. I also love that it's eco-friendly! It's easy to clean and can be used over and over again.
The cardboard packaging is completely recyclable. It retails for $49.95 and is available worldwide.
The founders of GLOtoSLEEP™ have generously offered to give
three
of my lucky readers a
GLOtoSLEEP™ mask each
. That's a total value of
$150
!.
Required

Entry
: Visit
GLOtoSLEEP™
, and leave a comment telling me something you learned from their site that is
NOT
covered in my review. (Please leave a valid email address in your comment or make sure one is visible in your blogger profile).
Extra Entries
(optional): please make sure you do the
required entry
first! Please leave a separate comment for each extra entry, i.e. 1 comment=1 entry.
Watch

The Four Twenty-One

movie trailer and tell me what you think (3 extra entries) No need to repeat your comment for the 2nd & 3rd entry. Just say "Trailer #2" etc.

Follow my blog publicly (1 extra entry)

Subscribe to my feed via email (1 extra entry) and leave your email address.
Follow Me on Twitter AND tweet the following message (1 extra entry

per day

) Yes! You may tweet once daily to increase your chances:
RT
@luckytoddler
GLOtoSLEEP giveaway! Win Hollywood's favorite eco-friendly sleep masks
! 3 Winners! Open worldwide!
http://bit.ly/gloto
Please leave your Twitter id or the link to your tweet in your comment.
Add icefairy's Treasure Chest to your blogroll (2 extra entries)
Fave me on Technorati (2 extra entries) and leave your user name
Blog about this giveaway and link back to GLOtoSLEEP™ and Me, and leave the link in your comment (1 extra entry for mentioning this giveaway on your blog; 3 extra entries for a separate blog post).
Giveaway ends at 11:59 Central Time on 8/28/09
Open

Worldwide!!!
Winner will be chosen using random.org and will have 72 hours to respond before a new winner is chosen.
Thanks for entering and good luck!