Welcome to the Philips Norelco Do-It-Yourself Hair Clipper Pro Giveaway!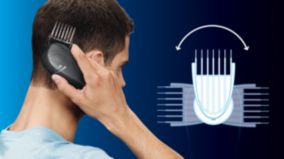 This giveaway is brought to you by
Tots and Me
along with some great bloggers who agreed to help.
Where do you typically have your hair cut? At a barber shop, a salon, or at home by a family member? Have you ever delayed having your hair trimmed or styled by a professional because you were concerned about the costs? I know I have. We've saved quite a bit by giving our children haircuts with a baby safe hair clipper for home use, but we haven't really explored the possibility of DIYing our own hair. I'm excited to know that Philips has introduced a hair clipper that allows you to cut your own hair like a pro, a feature that most hair clippers don't currently have. Check it out--
Philips Norelco Do-It-Yourself Hair Clipper Pro
With this hair clipper and its swiveling head, you will be able to get an even hair cut without help from anyone else. There is no more need to make a special trip, to schedule an appointment or to wait in line. Just consider how much time and money you could save! You may see it at work in
the review
done by Tots and Me
One lucky reader will win a Philips Norelco Do-It-Yourself Hair Clipper valued at $39.99!
Giveaway ends on 9/22. Open to US residents 18+ only. Please fill out the Rafflecopter form below to enter. Please be honest and don't check that you completed a task if you didn't. I do check and if you haven't completed the task you won't be eligible to win. Play fair!
Don't forget to come back for your daily entries to help increase your odds. Good luck!
a Rafflecopter giveaway
Disclosure: I received no compensation for this publication. All views expressed are my own and may differ from yours. Tots and me and icefairy's Treasure Chest are not responsible for sponsor prize shipment.