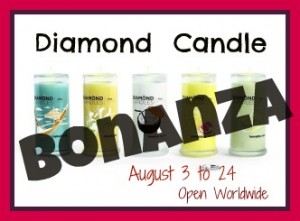 Diamond Candles are the most wanted candles right now! Each candle has a ring in it, valued between $10 and $5,000!
If you've been wanting a Diamond Candle, here's your chance to win, not one but FIVE of them!
Rita Reviews
and icefairy's Treasure Chest, along with a group of great blogs are hosting this Diamond Candle Bonanza! We are giving away TWO sets of 5 Diamond Candles! That's right--there will be 2 winners! Plus, winners will have their choice of scent!
This is going to be the best Diamond Candle giveaway ever. Don't miss out!
Giveaway runs from 8/3 to 8/24 and is open worldwide. Please enter via the Rafflecopter form below. Good luck!
a Rafflecopter giveaway
Disclosure: I received no compensation for this publication. Rita Reviews is solely responsible for notifying the winners as well as shipping the prizes and not icefairy's Treasure Chest.