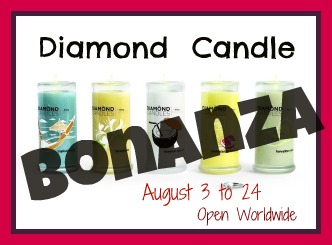 Diamond candles have been trending in the blogsphere during the past few months. Who doesn't love diamonds? In response to readers' request for a worldwide Diamond Candle Giveaway,
Rita Reviews
along with some blogger friends, will be hosting a Diamond Candle Bonanza Giveaway Event starting August 5th. A set of 5 Diamond Candles ($100 Value!) will be given away during the event!
Diamond Candles are these really cool earth-friendly soy candles that are made in the USA and contain a surprise in them. In each candle there is a ring worth anything from $10 to $5,000! That's right, you could have a diamond ring worth $5,000 inside your candle! So mark your calendar for the giveaway. You don't want to miss it!
If you are a blogger and want to participate in this event and potentially earn thousands of new followers, you can sign up
HERE
. Please let Rita know that "icefairy's Treasure Chest" sent you. Thank you!
Free link of choice with blog post. Additional links $3 each. Follow page hosting $10 each.