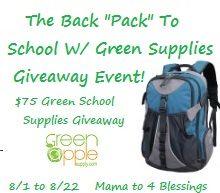 Welcome to the Back "Pack" To School With Green Supplies Giveaway Event sponsored by
Green Apple Supply
As parents: Stephanie and Robert Tobor, founders of
Green Apple Supply
want the best for their kids. As global citizens, they are faced with the responsibility to care for our planet, and each other.What started as an endeavor to feed their family natural, organic foods has grown into a much larger enterprise. Stephanie and Robert began to learn about potential dangers to children, and the planet, in cleaning supplies, household goods, office supplies…everywhere. The worsening state of the environment, climate change, and increasing levels of toxins showing up in children's blood work have combined to create a great passion for exposing their family to only the cleanest, most wholesome products. When they inquired as to why individuals were choosing traditional products over eco-friendly versions, they were typically given one of the following two answers:
1. Green products are too expensive.
2. There are too many choices, and some are not effective.
This was the beginning of Green Apple Supply! By utilizing economies of scale, wholesale purchasing power, and personal product experience, the founders endeavor to make it easier for anyone to purchase Earth-friendly products. And this is a non-profit effort. Products are sold as close to their costs as they can with low overhead. Why? Because they think it's the right thing to do.
Green Apple Supply has generously offered to give one reader a backpack filled with green supplies to start their new school year "green"!
Starting with a
Bighorn Backpack
- The rugged and durable Bighorn backpack has all the essential components for the modern individual, with the additional bonus of being made of RPET (recycled polyethylene terephthalate) water bottles. Recycle, reduce, reuse has never looked this good. Product details:
-Made from recycled PET bottles!
-Constructed of Repreve® RPET materials
-420D polyester ripstop and 600D polyester
-non-toxic dyes & materials and reflective piping
-dual side pockets with ergo-padded shoulder straps
-internal organizer pocket and moisture wicking mesh back
-Sells for $32.50
And inside the backpack one winner will receive:
-2 packs (12 in each pack) of
Graphite Pencils
- $1.75 each
-2 packs of
Banana Paper
(8.5" X 11")- $2.50 each
Made from 80% post-consumer waste paper / 20% banana leaf fibers. Water-based inks. Acid-free and bleach-free paper.
-1 (2 qty)
Glue Stick Blister Pack
- $4.75 each
Almond Scented Glue Stick is non-toxic, non-solvent, and acid free. Best of all it smells like marzipan, an almond-based.
-1 box of 64
Prang Soy Crayons
- $3.50 each
Made from a unique soybean oil formulation. Made from 100% renewable resources. No paraffin wax.
-1 box of
Ecolorgy Washable Markers
(8 pack) - $2.75 each
Non-toxic washable markers made in the USA from 25% recycled plastic. Duplex tips draw thick or thin lines and if they start to dry out, rejuvenate them by dipping the tip in water.
-20 pack of
eraser pencil caps
$1.25 each
-1
Recycled Plastic Ruler
- $1.00 each
-1
Twin Pencil Sharpener
- $1.75 each
Made from a minimum of 50% post-consumer polystyrene.
-1
TerraCycle 3-ring Binder Pencil Case
- Honest Kids- $2.50 each
Made from up-cycled Honest Kids drink pouches
-Qty 2
2-Pocket Portfolio Folders
- $.75 each
Fully biodegrade
-1 Set
ChicoBag- Snack Time re PETe
, Set of 3 Colors - $11.50
Each Snack Time set includes three reusable snack and sandwich bags that feature a fold-over, hook-and-loop closure system that expands to fit a full-size sandwich, or folds over for smaller snack items. The bags feature a food-safe, water and stain resistant liner that makes for easy cleaning.
-Qty 1
Dually Lunch Tote/Backpack Combo
- $17.50 each
Water resistant natural cotton exterior & interior
Attached cooler bag is insulated with a BPA-free liner, so it's safe for your kids Adjustable, padded shoulder straps for extra comfort
Recycled plastic components, Hand wash, line dry
Easy, durable velcro closure for little hands
Zipper pocket in main pocket for change or keepsakes
Special name tag on inner flap
Non-toxic and lead-free, conforms to U.S. standards
Giveaway ends on August 22nd at 11:59 PM. Open to US residents only. Ages 18+.
Please use the Rafflecopter form below to enter. Daily entry available by tweeting!
a Rafflecopter giveaway
Disclosure: I received no compensation for this compensation. icefairy's Treasure Chest is not responsible for prize shipment, which is the sole responsibility of the sponsor.