This is a Sponsored post written by me on behalf of dealnews. All opinions are 100% mine.
I love shopping online and buying a good bargain makes me feel like a smart shopper.  But looking for the best deals can be time consuming and it's not always possible to keep up with the hot deals on stuff you really need. Websites like dealnews are therefore a wonderful resource for shoppers like me, who loves deal shopping but can't afford the time for all the research.
Every day dealnews scours 2,000+ online retailers and brings the best deals at your fingertips. The staff at dealnews verify that each deal listed is valid and has the lowest possible price so that you don't have to do any of the hard work. Deals are neatly organized into major categories like computers, clothing, electronics, travel local and seasonal. Right now there is a special tab for Valentine's Day, where you can find great gifts at incredible prices.
Within each category, you can easy sort the deals by subcategories, brands, stores, prices, the date they were added to the listing, as well as their hotness based on the amount of savings you can get. Each deal page not only provides you with the direct link to the item on sale, but also a detailed description of what makes it a best buy, including shipping charges, taxes, choices available, and overall savings.
Here are a couple examples of the nice clothing deals that I can find at dealnews: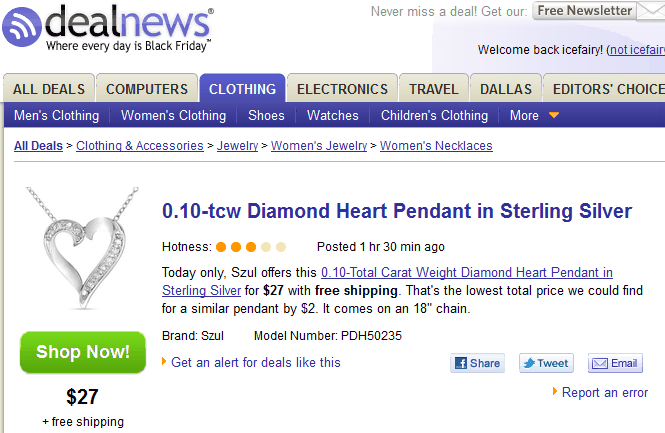 When you have a chance to visit dealnews.com, please come back and share with me your favorite deals and what you plan to buy.
If you really want to stay on top of the latest deals, I'd suggest you subscribing to dealnews newsletter or custom deal alerts. You can choose to receive a daily digest of the best deals or deals on a specific product, from a specific store, or a specific category.
dealnews also rewards its registered users with exclusive giveaways and sweepstakes. Right now, you could win a Nook e-reader for Valentine's Day! Don't miss it!