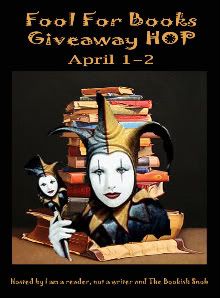 ~~The giveaway is now CLOSED. Congrats to winner Nicole!~~

Happy April Fool's Day and welcome to Fool For Books Giveaway Hop!
It's hard to believe, but April is already here! I Am A Reader, Not A Writer is hosting another fun giveaway blog hop for the next 48 hours. Each of the 200+ participating blogs is giving away book-related prizes including Amazon gift cards. Check out the linky at the end of this post and enter as many giveaways as you like! You are cordially invited to enter all
my current giveaways
, including a $75 gift card to Apothica online beauty boutique. Happy blog hopping and good luck!
Did you know that 95% of Americans do not get enough whole grain (Reference: Report of the 2010 Dietary Guidelines Advisory Committee)? In fact, the average person gets a little more than half a serving of whole grain each day. That's significantly less than the three servings that have been recommended daily by experts.
Did you also know that every Big G cereal is guaranteed to contain at least 8 grams of whole grain per serving? More than 20 Big G cereals deliver 16 grams or more. (At least 48 grams of whole grain are recommended daily.) A diet high in whole grain has been found to help with diabetes and weight management, and may help reduce the risk of heart disease and certain cancers.
Weight management is more than just watching calories – it's also important to follow a nutritious and balanced diet to keep you healthy. Big G cereals are rich in nutrients and come in brands you're familiar with, including
Cheerios®, Lucky Charms®, Cinnamon Toast Crunch®, Honey Nut Cheerios®, Fiber One® and Total®
. The white check on the front of the box will help you identify Big G cereals!
Cereal eaters consume less fat, less cholesterol and more fiber than non-cereal eaters. Frequent cereal eaters, including those choosing sweetened cereals, tend to have healthier body weights. Cereal consumption as part of an overall healthy lifestyle may play a role in maintaining a healthy body mass index.
MyBlogSpark recently sent me a Big G Cereals Prize Pack including VIP coupon for one Big G cereal and a copy of
The Lean Belly Prescription
by Dr. Travis Stork, MD and host of The Doctors. The book focuses on fighting belly fat, which has been shown by a large amount of research that carries more health risks than fat stored elsewhere. In his book, Dr. Stork offers several "Laws of Leanness," including:
If you love to graze: Nosh all day long on your favorite fruits and vegetables to help keep your belly full
If you love fatty foods: discover which fats can actually strip away pounds
If you love soda: substitute more delicious drinks that can help you lose up to four pounds in four weeks.
Unlike a prescription in the conventional sense,
The Lean Belly Prescription
is filled with yummy recipes and "workouts that don't feel like work". Dr Stork's unique prescription has proven to strip away up to 15 pounds of dangerous belly fat in just 4 weeks!
Please visit
www.WholeGrainNation.com
for more tips, additional information about the benefits of whole grain and how Big G cereals can be a convenient and tasty way to help you manage your weight by incorporating whole grain into your day.
MyBlogSpark has generously offered to give one of my lucky readers the same
Big G Cereals Prize Pack
as I received for review!
Required

Entry
: Follow my blog publicly via Google Friends Connect and leave a comment telling me your favorite brand of Big G Cereals. (Please leave a valid email address in your comment or make sure one is visible in your blogger profile).
Extra Entries
(optional): please make sure you do the
required entry
first! Please leave a separate comment for each extra entry, i.e. 1 comment=1 entry.
Subscribe to my feed via email and leave your email address (1 extra entry)
"Like" me on Facebook and leave your FB name (1 extra entry)
Follow Me on Twitter AND tweet the following message (1 extra entry)
RT @luckytoddler #Win a Big G Cereals Prize Pack
! http://bit.ly/ffbbg #fbz #contest #giveaway #sweepstakes #myblogspark #fitness #UBP11
Please leave the link to your tweet in your comment.
Join QuestionMoms and leave your user name (1 extra entry) New signups only. You'll get $3 after completing your profile. Start earning cash for answering short surveys and testing new products.
Join VirtaPay and leave you user name (1 extra entry) New signups only. You will receive free $25 in your account upon signup, which can be used toward online purchases.
Giveaway ends at 11:59 pm Pacific Time on 4/2/11
Open to
US Residents Only
Winner will be chosen using random.org and will have 72 hours to respond before a new winner is chosen.
Thanks for entering and good luck!
Disclosure: General Mills provided me with the free product, information, and prize packs through MyBlogSpark.